This group has been closed by the Founder ~ April 3rd, 2002
I was fortunate to meet a lot of wonderful people here though, and
I'm leaving this page active as a dedication to the group and to those people.
Sisters Forever
Founder ~~Aphrodite~~
Sisters Forever is an internet group and webring showcasing websites of any acceptable subject nature.
I am an active member on the Graphics Committee. I've met so many ladies in this group and am enjoying the interaction. I've found that they are a warm, caring and fun loving group of people. It's been my pleasure to be part of this group.
I'm quite proud to have been accepted to this circle of talented people!
Group and Committee Badges
Awards
Gifts from my Sisters Forever Friends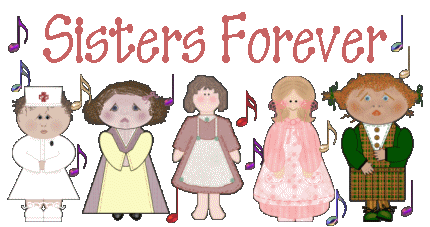 I am sorry to announce that Sisters Forever is now closed on the decision of Aphrodite, the founder.
April 3rd, 2002.